Program Orientation
RAIC Syllabus Categories
Syllabus Students fall under one of these categories:
Diploma Program Candidates: Individuals seeking professional licensure must complete the full Diploma Program of Studies to obtain the RAIC Professional Diploma in Architecture.
Canadian Architectural Certification Board (CACB) Referral Students: Individuals seeking academic certification complete courses as instructed by the CACB. 
Syllabus Academic Calendar:
Term 1: March 1 - June 15 (12 weeks)
Term 2: September 1 - December 15 (12 weeks)
Studio Courses begin at the start of each term. The specific studio start day will be communicated to students by their coordinator through email prior to the beginning of each term. 
History, Theory, and Technology Courses are administered through RAIC Centre for Architecture at Athabasca University and begin on the 1st of each month throughout the year. 
Diploma Program Duration:
The full 8 - 12 yr Diploma Program of studies is divided into 3 Parts. 
PART I: INTRODUCTION TO ARCHITECTURE
Duration: 2 - 3 years 
Course Load: 9
PART II: Skill Development, Knowledge Acquisition & Understanding
Duration: 2 - 3 years 
Course Load: 10 
Work Experience: 2,800 logged hours (3 years @ 20 hrs/ week; 1.5 years @ 40 hrs/ week)
PART III: Synthesis & Application
Duration: 4 - 6 years
Course Load: 9 
Work Experience: 7,000 logged hours (3.5 years @ 40 hrs/ week)
Note: It is assumed that students would work Part Time under Part II and be a Full-Time employee by the time they enter Part III of the program. This is a rough estimate of the total number of years students will spend in to complete the program, therefore the actual timeline will depend highly on the amount of work the student can handle and the timeframe needed to complete the academic course portion (i.e. 3 months per course vs 6 months per course).
Syllabus Course Sequence Table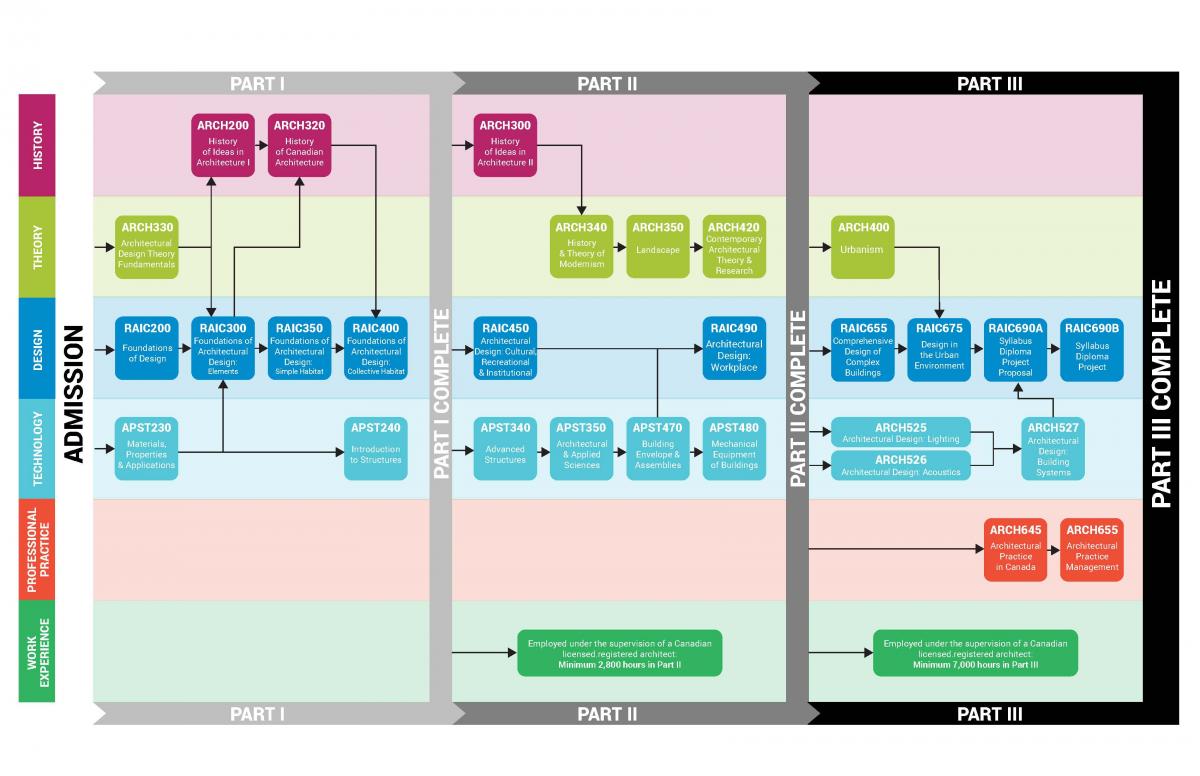 Download a PDF version of the chart here.
Diploma Program Components:
Unlike the sequential University route of theoretical education followed by work experience through the Intern Architect Program, the RAIC Syllabus Professional Diploma Program of Studies is comprised of 3 concurrent components described briefly below and detailed in the Curriculum Sequence Chart and Course Calendar. The 28 courses of the RAIC Syllabus Professional Diploma Program of Studies have been numbered and grouped into a planned learning path with emphasis on the integration of design studio workshops, academic courses, and work experience. 
1) ACADEMIC COURSES (Administered by Athabasca University through the RAIC Centre for Architecture) - 19 Courses 
For current Syllabus Students: The RAIC National Office will accept a student's 'Statement of Grades' as proof of course completion and record grades in the RAIC Transcript for each academic course taken through Athabasca University. Students will be required to submit to the RAIC Syllabus National Office an Official Transcript from Athabasca University at the end of Part 1, Part 2, and Part 3 of the program to advance and receive a Certificate of Completion/ Diploma.
The Statement of Grades can be emailed to the RAIC Syllabus Registrar at info@raic-syllabus.ca 
Theory Sequence (5 courses)
Architectural Theory is a body of knowledge that endeavors to understand the values and ideas of culture and their expression in architectural form. Architectural theory, as an independent area of inquiry in architecture, has gained considerable ground over the last century. It has also gone through significant changes during this period. These changes are a result of two profound shifts in the way we think about the world in general and about architecture in particular. The shifts are directly related to the rise and demise of "modernist" theory in architecture. The latter shift, expressed under the heading of 'Post-Modernist', has gained considerable ground over recent decades. Today, however, architectural theory can be seen as a critical setting to understand 'Classical', 'Modern' and 'Post-Modern' orthodoxy. Arguably, it is characterized by an inclusivist approach, tolerant of accepted as well as polemical positions. 
The Theory Sequence is structured to allow the student to develop a basic understanding of architecture as language and design as a conscious methodical act, embodying means; the role and nature of theory in architecture; the major theoretical ideas and issues that have influenced architecture over the last century; and recent trends in architecture with an emphasis on future directions.
History Sequence (3 Courses)
No part of the global environment survives untouched by human intervention, from ancient times to the present. Good design and management of the built environment need informed critical understanding. History – an ordered account of past societies, their works, and ideas – provides the essential foundation. These courses provide an opportunity to study the past through architecture, using buildings, settlements, gardens and landscapes, both as works of intrinsic interest and as the most complete record of past societies and their ideas. Architects generally need not have any great specific knowledge of architectural history, unless they are practicing in some specialized field like restoration. But there are some architectural monuments from the past that anyone in the field ought to know. A suggested list of them is included in the course descriptions.
Technology Sequence (9 Courses)
Technical systems play a primary and defining role in informing architectural design at the conceptual stage. Performance characteristics and environmental impact analyses are important; equally critical are the spatial and visual impacts on the design. The selection and integration of these systems into a coherent whole is dependent upon the design intention and is, therefore, an integral part of the design process.
Professional Practice Sequence (2 Courses)
Successful practice of architecture in the 21st century depends upon business and management skills necessary to compete in the continuously changing marketplace of the design profession. The increasing complexity and sophistication of conducting business, managing a professional practice, and establishing professional standards challenge the architect to maintain up-to-date knowledge and skill sets. Working within local and global communities, effectively communicating with many partners within a project, developing and modifying management systems to support professional practice are necessary skills for future professionals.
Academic Course Delivery: Online and Correspondence
Academic Course Evaluation: Assignments and/ or Examinations
2) DESIGN STUDIO WORKSHOP COURSES (Administered by the RAIC Syllabus Program) - 8 Courses + Syllabus Diploma Project 
Architectural design must be founded upon knowledge and awareness. It is essential to understand the consequences and implications of a design and how it may be perceived, experienced and interpreted. It is essential to design with knowledge not only of the physical media of building, of materials, structure, and services, of the pragmatic reality of practice and law, but also of architectural principles and precedents, and of the cultural, social and theoretical context in which a work of architecture is created.
Finally, it is essential to design with a conviction that the essence of architecture lies in its artistic power and integrity. The sequence of design courses explores design principles, architectural typologies, and integrations.
Design Studio Course Delivery: Face-to-Face via studio workshops located in 13 cities across Canada: Victoria, Vancouver, Calgary, Edmonton, Saskatoon, Regina, Winnipeg, Thunder Bay, Toronto, London, Ottawa, Grande Prairie, and Halifax. 
12-14 weeks duration each term 
weekly and/ or monthly meetings
Design Studio Evaluations: Mid-term and Final Presentations
3) WORK EXPERIENCE - 9800 Hours 
Concurrent application in the 'real world' of theory learned through academic and design courses is an integral part of the RAIC Syllabus. Students are required to seek and obtain work experience under the direct supervision of a Canadian Registered, Practising Architect, in a variety of office situations to demonstrate and document the acquisition and application of knowledge obtained per Canadian Experience Record Book (CERB) requirements of the Intern Architect Program (IAP).
Although no work experience is required of Part I students, work experience, or "back-entering" gained immediately before Syllabus studies and/or during Part I of the program may be applicable.
Work experience requirements are detailed in the Architectural Experience Manual. 
Syllabus Expectations
In the Syllabus, a Student is expected to be involved with the intent of learning. Successful Syllabus students are committed, self-motivated, tenacious, and prepared to study independently (correspondence courses) as well as work with others (design workshops). In addition to the diligent study, students are expected to contribute time and energy to their local Chapter, assisting the volunteer professionals in the delivery of the design studio courses.
The Syllabus works well for individuals with excellent time-management skills, able to balance 30+ hours per week of studies, employment and personal lives over the 8 - 12 year time period to complete all requirements.
There is no 'fast-track' method of completing the Syllabus, though advanced standing may apply due to previously completed post-secondary courses. Please review the Application Process, the Credit Assessment, and the Studio Advanced Standing Policy. 
Fees
Costs to deliver the RAIC Syllabus Program are financed by Student Fees. Please see the Fees Section of our website for further details. 
Further Questions
Please see our FAQ page or contact the RAIC Syllabus Office at info@raic-syllabus.ca or by calling the Syllabus Registrar at (613) 241-3600 ext. 2013.