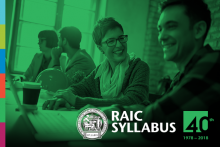 Join the Syllabus community in celebrating 40 years! Since 1978, Syllabus has been Canada's practical, alternative path to architectural licensure. Created by the profession, for the profession, more than 120 students have graduated from the program with professional Diplomas in Architecture (Dipl. Arch) – leaving a lasting impact on the country's built landscape.
As the program has grown and evolved over the past forty years, Syllabus graduates have become successful and integral members of the architecture community. These graduates have stories to tell and wisdom to share. 
Frances Martin-DiGiuseppe came from a family of architectsbut chose the path less travelled when she enrolled in Syllabus. Now the founder and a principal at Q4 Architects in Toronto, she was able to balance studying architecture and raising a family during her time in the Syllabus program. She is also a trailblazer for women in architecture in Canada, and a celebrated member of the Syllabus community.
Syllabus Alumni Gerald Gallacher is a Principal at Nicholson Sheffield Architects, having previously worked as project manager for over 20 years. This technical background has helped lead to his success as an architect and offers clients a well-rounded experience. Gallacher is also the volunteer coordinator for the London, ON Syllabus studio chapter, continuing his role in shaping the legacy of Syllabus.
Other successful Syllabus graduates include Deborah Friesen, owner of Deborah Friesen Architect, who originally wanted to be a sheep farmer before turning to architecture, and Scott Robinson, a Principle at Architects Tillmann Ruth Robinson, where he leads the design teams. 
Be a part of marking this special moment in the program's history. Beginning today, and over the next five weeks, look for social media updates or visit the RAIC YouTube channel as we release a five-part series of graduate interviews and hear them share their Syllabus experiences and stories.
We will hear why these graduates chose to study architecture through the Syllabus program, how they were able to find a healthy work-life-study balance, and how they overcame any obstacles that arose along the way. They will also share advice for current and prospective Syllabus students.  
To help spread the word and share the pride, the Syllabus program is offering Syllabus-branded water bottles for sale now available online.
For those interested, or who know someone who is interested in an alternative path to architectural licensure, registration for the 2018 Term 2 Syllabus program is now open until June 15, 2018. Please visit the Syllabus site for more information and to apply. 
Join the 120+ graduates, 180+ enrolled students and hundreds of past and present RAIC Syllabus volunteers in celebrating the success of Syllabus today!
We hope you will join us!